Oilfiled Wellhead 7-1 / 16'' x 3M SOW Casing Head
API 6A Casing Head 7 1 / 16" x 3M for Wellhead Connection
Overview of the 7-1 / 16'' x 3M SOW Casing Head
The casing head is a adapter between the first casing string and the wellhead X-tree or the wellhead BOP. The casing head is the important connection part of the wellhead equipment. The casing head provides a transition joint for the installation of the tubing head.The two-side-outlet design allows the casing head to supply cement,monitor and control well's sinking,and inject balance liquids etc.
The specification of the 7-1 / 16'' x 3M SOW Casing Head
Supply of 7-1/16'' x 3M SOW with Gate Valve and Accessories, ALL EQUIPMENTS MANUFACTURED TO API 6A 20TH EDITION, MATERIAL CLASS ''AA'' TEMPERATURE ''T'' PSL-1, PR-1

2

CASING HEAD HOUSING (7-1/16'' - 3000 PSI TOP FLANGE X 7'' SOW BOTTOM WITH TWO 2.1/16''- 5000 PSI STUDDED OUTLETS WITH PROVISION OF THREADS FOR 1.1/2'' LP VR PLUGS & TEST PORT TO BE PROVIDED TO TEST WELD INTEGRITY)

3

GATE VALVE ASSY. (2.1/16'' X 5000 PSI), FLANGED ENDS, HAND WHEEL OPERATED, BI-DIRECTIONAL-MATERIAL CLASS''AA'' AS PER API -6A LATEST EDITION

4

GATE VALVE ASSY, 7-1/16'' 3M FLANGED ENDS W/RX-45 RING GROOVE, HANDWHEEL OPERATED

5

COMPANION 2.1/16'' 5K X 2'' WECO FIG 1502 F, WITH BULL PLUG 2'' FIG 1502 M X 1/2'' NPT

6

RING GASKET RX-45, AS PER API-6A LATEST EDITION. API MONOGRAMED

7

RING GASKET RX-24, AS PER API-6A LATEST EDITION. API MONOGRAMED.

8

NEEDLE VALVE (ANGLE TYPE) 1⁄2'' NPT, 5000 PSI

9

7-1/16" 3M API FLANGE CONNECTION ON ONE SIDE x 7" BTC BOX ON OTHER SIDE, MIN ID SHOULD BE 6"

10

11" 5M BOTTOM FLANGE x 7.1/16" 3M TOP FLANGED DOUBLE STUDDED ADAPTER FLANGE

Material AISI4130 Forged, AA,PU,PR1,PSL1(Exclude Bolts, Nuts and Ring gaskets for both

11

Ring Gasket RX-54, Material AISi1010

12

9.875"x1.875" Studs with Double nut, Stud material AISI4140, Nut Material AISI1045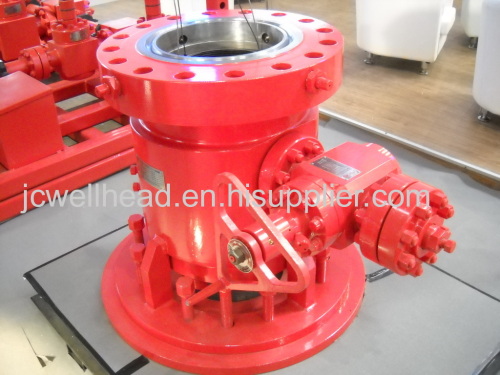 YCJC's advantage:
* Excellent and stable quality of the products conformed with API and ISO standard
* Strict quality control on raw material and machining, we can arrange the SGS or BV to witness the test
* We supply various wellhead products to meet the customers' operation.
* Timely delivery, professional service on export procedure,
* Product guarantee and best after-sales service.